The Marlborough Sounds at the top of the South Island is one of the most beautiful and tranquil places in New Zealand a network of fjord like water ways, an oasis of natural beauty where steep hills clad with native and timber forests roll down to secluded coves of golden sands and deep coves of mesmerizing azure blue waters. The Marlborough Sounds are an amazing natural creation of unspoilt wilderness.
Climate
Marlborough Sounds regularly claims the highest sunshine hours in New Zealand and is blessed with warm and long summer days in contrast to a short winter which may bring a spectacular rim of snow on the distant high country mountains.
History
The Marlborough sounds and surrounding area area are steeped in Maori and European history. Maori canoes first breasted these waters 1000 years ago. In 1642 Abel Tasman sailed past d'Urville Island, French and Russian explorers followed and in the 1770s Captain James Cook arrived. Within a century the area was home to farmers, fishermen, whalers, miners and saw – millers. Today visitors can still find traces of many of these early activities.
Havelock – Marlborough Sounds
The gateway to the pleasures of the Pelorus and Kenepuru Sounds is the historic, seaside town of Havelock, which was once a thriving gold-mining town. Now it thrives on riches from the sea as Greenshell Mussel capital of the world – and a growing market for its memorable holiday experiences. Inside the quaint colonial buildings of main street Havelock you will find boutique art and craft galleries, cafes, and fine food establishments. You'll also find a good range of accommodation options, which makes Havelock an ideal base from which to explore further afield.
Activities
An idyllic location for walking tracks, boating, fishing, diving, kayaking, swimming nature trails and wildlife. Your hosts have a wealth of local knowledge and are available to assist you in planning you holiday excursions, ensuring you enjoy all that The Marlborough Sounds have to offer
Recommended Activities
Greenshell Mussel Cruise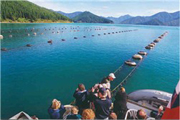 Enjoy an informative, relaxing and fun afternoon cruising the inner Pelorus and Kenepuru Sounds,  learn about the history of the Marlborough Sounds and the pioneering families who have settled here. Visit a Greenshell Mussel farm where your launch captain will explain how and why this delicacy grows so well in the Marlborough Sounds.  While at the mussel farm we serve freshly steamed mussels with a glass of Marlborough Sauvignon Blanc, a wonderful wine and food match in a beautiful part of Marlborough.
You can book this activity at the Havelock Motel & Motor Lodge reception.
Waterways Boating Safaris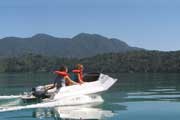 Drive a boat… Explore the Sounds.
Fun, Freedom and Stunning scenery.
Experience the thrill of driving your own boat through the beautiful, sheltered waterways of the Marlborough Sounds.
Quick and easy to learn, you will soon set off gliding across the water to explore numerous bays and hidden coves.
$110 – $150 per person
Ph +64 3 574 1372 
www.waterways.co.nz
Havelock Water Taxi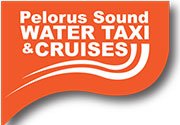 Pelorus Water Taxi & Cruises – for fast, comfortable & efficient water transport throughout the Pelorus & Kenepuru Sound. Take a water taxi to your bach or holiday accommodation, enjoy a boat tour and a walk, mussel cruise, sightseeing & fishing tours in the Marlborough Sounds or take our water taxi to work and be picked up again.
Whatever your requirements for travel throughout the Sounds, we will meet your needs.
Email: info@pelorussoundwatertaxis.co.nz for any enquiries.
Phone: 03 574 2151
Mobile: 027 444 2852
www.pelorussoundwatertaxis.co.nz
Foxy Lady Cruises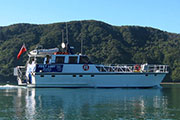 Cruise through the idyllic Marlborough Sounds – cruising charters on board Foxy Lady – all year round boat tours from Havelock. Nydia Track Pelorus Loop Cruise, Lazy Days Kayaking Cruise, Fishing Charters, Scenic Mussel Cruises, Overnight BBQ Cruises or create your own adventure.
Email: info@pelorussoundwatertaxis.co.nz for any enquiries.
Phone: 03 574 2151
Mobile: 027 444 2852
www.pelorussoundwatertaxis.co.nz